If you are a student, researcher, development practitioner or you are just interested in acquiring access to knowledge, you will be glad to hear that the EGI's resource centre was recently boosted by acquiring online access to some of the world's renowned journals.
This was enabled through successful application to be admitted to two programmes, one coordinated by the World Health Organization (WHO) and the other by World Intellectual Property Organization (WIPO). Both programs aim to boost access to information in low income countries across the world.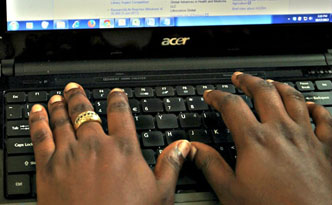 The HINARI Access to Research in Health Programme is coordinated by the World Health Organization (WHO) and brings together publishers and other health care content owners to provide biomedical and health care research and practical information guidelines to researchers and practitioners from low income areas. The programme facilitates access to up to 12,700 journals, 24,900 e-books and up to 70 other information resources.
Similarly, the Access to Research for Development and Innovation (ARDI) program is coordinated by the World Intellectual Property Organisation. Currently, 17 publishers provide access to nearly 10,000 journals, books and reference works through this program.
The EGI resource centre is open to the public and offers access to these information resources by providing the hardware and internet access to them.