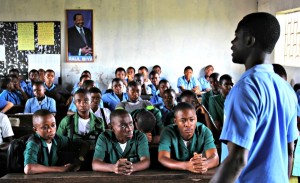 On February 5th, EGI commemorated with students of Government High School (GHS) Bolifamba, who played host to Baptist High School and Summerset Bilingual College to hold discussions about the importance of wetlands to agriculture and to the environment in general.
The World Wetlands Day is commemorated every year on 2nd February. This year, the theme was wetlands and agriculture: partners for growth?
According to the Ramsar Convention on Wetlands, wetlands are areas of marsh, fen, peat land or water, whether natural or artificial, permanent or temporary, with water that is static or flowing, fresh, brackish or salty, including areas of marine water the depth of which at low tide does not exceed six meters.
Students were keen to discuss how useful wetlands are in Cameroon. One of the participating students Arrey Oben from the host school captured the general train of thought among the other students when he spoke to our Communications and Public Relations Trainee, "Most wetlands like lakes, rivers, serve as habitats for some aquatic organisms like fish which provide self employment, they are also a source of transportation which improves the growth of the country in one way or the other." The topics were diverse: how wetlands contribute to the economy, the role of wetlands as breeding grounds, soil fertility, irrigation and management of drought through wetlands, the effect of pollution on wetlands etc.
Using a poster from the Ramsar Convention website, students from Baptist High School acted a sketch that depicted the conflicts around use of wetlands, and the effects of wetlands exploitation on human beings and animals.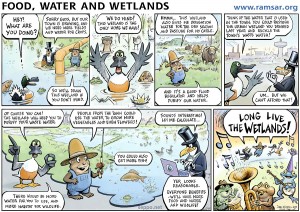 This prompted many students to share their concerns about how wetlands are managed in Cameroon, with some boldly stating what they think the government should do to protect them. "The government should call on companies to treat their waste before releasing them to the rivers, otherwise it ends up affecting the animals that live in wetlands," said Salome Mbacha  from Babtist High School.
The event was officially opened and closed by Mrs. Mercy Ekwaingen of the Ministry of Environment, Nature Protection and Sustainable Development (MINEPDED), who was accompanied by her colleague Ms. Patienc Dzedezemaon. Also present was the Executive Director of EGI, Mr. John Takang.