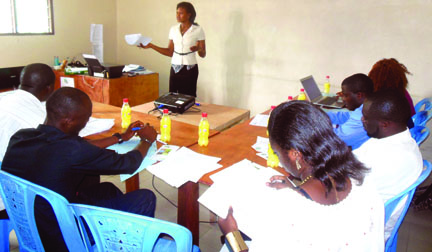 School environmental clubs play an important role in imparting knowledge, skills and attitudes required to foster sustainable development among young people. EGI has been taking lead to develop a guide for teachers, to enable them build effective clubs and facilitate their teaching of environmental issues.
The guide has been developed with active participation of teachers from partner schools in Buea, with technical input by officials from the Ministry of Environmental Protection of Nature and Sustainable Development (MINEPDED).
During an inaugural workshop, which was held on the 14 October 2013 on the theme "collaboration to realize education for sustainable development", teachers brainstormed about the meaning, objectives and importance of environmental clubs. They spoke of the specific strengths and weaknesses of their clubs and highlighted areas where they needed support.
In addition, individual and group meetings were held with coordinators of environmental clubs in secondary schools. Using the information gathered, the EGI team developed a draft guide, which was circulated to the teachers.
In a second meeting held on 28 November 2013, participants worked in groups to critique the content and the structure of this draft guide.
Among other things, teachers emphasized the importance of highlighting the environmental problems that club activities could resolve. They also stated the importance of linking club activities to actual situations, so that children could better understand how to apply their newly acquired skills.
Speaking on behalf of his group, Jean Pierre Eyaba from PCSS Buea requested that club activities be harmonized. "There should be a uniform environmental pledge for all the schools and activities should be divided according to the school calendar."
A future of collaboration
The meeting was boosted by the participation of the Guest of Honor, Ms. Ekwaingen nee Mercy Boh M., the Regional Chief of Service for Information, Sensitization and Documentation, MINEPDED, accompanied by Mrs. Dzedezemaon Patience Dafela from the same Ministry.
The engagement of schools, civil society and government representatives at the workshop highlighted the importance of collaboration to address environmental problems. Participants discussed concrete examples of how collaboration worked. For example, Mrs. Sama Anteh Gladys from GHS Bolifamba explained how she helped students to use their knowledge to address household pollution, while Mrs. Ekwaingen highlighted specific environmental laws that seek to control industrial pollution and mete out penalties to non-compliant companies.
To indicate the readiness of her department to partner with schools, Mrs. Ekwaingen pledged government support to the schools in form of tree seedlings and other materials, which they could use to teach their club members about tree planting and use to beautify their school compounds.
So far, 11 schools are participating in the development of the guide. This activity has been partly supported by Environmental Education and Conservation Global (EECG), through the John Judy Memorial s Grant Fund. Teachers pointed out that not all of them were well versed with environmental matters. As such, they requested capacity building support to enable them to teach these issues to their students in a better way. They also requested material support for some of their activities. In 2014, EGI will concentrate its efforts on training the teachers based on their identified needs.