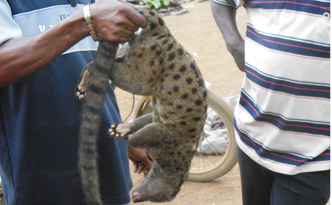 He is known as Rambo, and he does not want to be photographed, the camera might steal his soul. Nonetheless, he is willing to tell a few stories. In true keeping with his name, his tales are reminiscent of those told in action films. The hunter and the hunted, in a rhythm as old as time itself. But Rambo senses that the tide is changing, and he, like other hunters, will have to change with it.
"I do not have any bush meat to sell today, and even when I do, I only sell small game," he states firmly.
Tightening controls over the species that can be hunted for meat has made people around the Takamanda national park wary of strangers. For many years, they relied on the forest's rich biodiversity for food, wood, medicines and non-timber produce.
In November 2008, the Takamanda forest reserve was upgraded to a national park. This trans-boundary park spans ca. 67,000 hectares and is home to the highly endangered cross river gorillas, forest elephants, chimpanzees and drills.
With diminishing livelihoods options, people like Rambo are now forced to choose between continuing with now illegal practices and poverty.
"There was once someone who came here and followed me to the bush, he photographed me when I was hunting. I had no idea that he would use the photograph as evidence against me," he explains his aversion to cameras.
Fear of law enforcers
Whereas this fear of law enforcers could contribute to halting the hunting and trading in protected species such as the cross-river gorilla and the forest elephants, experience in other parts of the world has shown that species conservation without due consideration of communities is not an efficient approach.
With support from New England Biolabs (NEBF) and the Rhodes Southern African Scholars' Forum (RSSAF), EGI F Environmental Governance Institute (EGI) will help villagers in Nkhogo and Babong to enhance their livelihoods through a bee-keeping project pilot. Eventually, the project will be expanded to neighbouring villages.
Bee-keeping not the only alternative
Bees are not everyone's first choice however. For hardcore hunters like Rambo, dealing with insects is too large a learning curve to navigate. "I don't know anything about bees, but I know everything about forest animals, they have been my source of income for decades," he explains. "If I were to do another activity, then it would have to be related to meat, a pig farm for example. That is something I can do well."