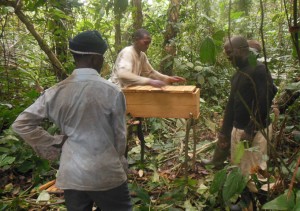 After a successful kick off of the bee farming project in Nkogho and Ajayukndip villages of the Eyumojock sub-division, Helen Ashu, the media and public relations trainee of EGI accompanies Ruth Mobia, the Community and Gender Officer, to the villages to experience for herself the type of support activities she is providing to the project participants and talk to them about their hopes and expectations..
Bee farming is a business like any other
Even if a business is good, it will rarely succeed without a solid business plan and strategy. It is for this reason that the Gender and Community Officer of EGI, Ruth Mobia who has been working with the people of Ajayundip and Nkogho, recently organised a workshop to train them on business management. She taught them what strategies to use when doing business in a group and the important role that rules and regulations play in running a group business. A community expert on bee held another session to educate them on various types of hives, their advantages and disadvantages, bee species, colonies and even how conflicts arises between bees. "If a strange bee gets into another colony, there tends to be conflict because the resident bees will fight to protect their queen and colony."With this information, groups understood why they should always keep a distance of about six meters between hives. He also educated them on the kind of food to give bees and harvesting processes. The training is part of the ongoing support which will help the bee farmers improve practices and ensure good honey harvests.
After the training, the villagers expressed their expectations. Mr. Ayuk Etta, a hunter from Nkhogho, explains why it is important for them that they succeed as bee farmers.  "If we can get to a point where we gain more income, there will be no need for some of us to go out to hunt late at night which exposes us to so much danger just to get our daily bread."
Another bee farmer, Mr Bisong Elvis explained the value he places on this continued training.  Bee keeping has its own challenges. The last time we tried it, we face difficulties feeding the bees during the rainy season, and we ended up getting very little honey. When EGI delegates people to visit the villages and see how they can help us, we are going to be better prepared to face the challenges."
Strength in numbers- building networks with other bee farmers
In order to improve their chances at success even further, EGI has been building partnerships with bee keeping experts to source additional technical knowhow.  Mobia visited Bonakanda Bova Bee farmers Group (BOBEEFAG) for an introductory meeting and attended A workshop to refresh her own skills.
She is now able to bring in more updated technical solutions and help the community beekeeping trainer in solving the people's problems effectively.