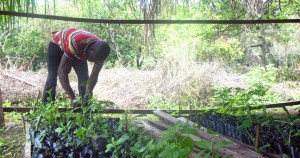 Community members have started collecting seedlings and distributing them to their own villages. They had been assisted by EGI had put in place the main nursery at Nchang village which is supervised by the community resource person, Mr. Takangeyong Stanislaus.
From the pre-nursery stage to the nursery stage, a lot of work had been done by the people to make sure that it got to the level it is today. The main nursery at Nchang was set up by EGI with the technical support of Mr Ashu Alexander, Head of Protection Unit for Takamanda National Park and the involvement of volunteers from the 11 communities.  Ashu assisted in selecting good species of seeds which were kept in the nursery and held workshops from time to time with the villages on the ways to care for their trees.Community volunteers have been taking active part in the building of the nursery, filling of the polythene bags and transferring of the plants from the pre-nursery to the polythene bags (nursery). They organized themselves and visited the main nursery at least once a month for clean up campaigns and maintenance to ensure that the seeds remain in a healthy condition. They also act as intermediaries between the organization and their respective communities, representing their communities' interests and  sharing information on agro-forestry practices back to their communities.In the month of March, EGI's Gender and Community Officer, Miss Ruth Mobia together with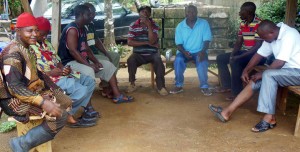 Mr. Ashu and the village volunteers visited the main nursery at Nchang for the distribution of the seeds to the various villages for them to be planted in their farms. Commending the great work that Takangeyong has been doing by taking care of the seeds from the pre-nursery to the nursery stage, Mobia explained that this active and continuous engagement with the nursery has helped both Takangeyong and the community volunteers to learn more about setting up nurseries and the time and energy it demands.During the process of the distribution of the seeds, some volunteers expressed their gratitude to EGI for staying committed to the project. Mr. Paul Betek, the community volunteer of Small Mamfe said, "We are very thankful to EGI for making their promises to come to reality. On behalf of my people, I would like to say that we promise to plant these seeds and make good use of the profit while waiting for the next species to be nursed."
Mr. Enow Daniel of Okoyong village said, "I am so happy to have been one of the volunteers from the time this project was brought to us. My participation in this project has made me learn a lot of things concerning agro-forestry and managing of nurseries"
As they go and plant these seedlings in their farms, community members will be waiting for the distribution of the other species of seeds when they attain maturity.