Management Board
Founder and Executive Director
John Manyitabot TAKANG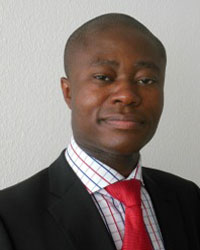 John holds a Bsc. in Environmental and Resource Management and MSc. in Environmental Sciences from the University of Cologne, specializing in environmental law and governance. He was a Resident Scholar at the United Nations University's International Human Dimensions Programme on Global Environmental Change (UNU-IHDP) in Bonn-Germany. John has also served at the International Forest Policy Unit, in the Department of Natural Resources Governance and Climate Change of the German Technical Cooperation (GIZ). He was the Academic Officer of the International Master of Environmental Sciences (IMES) Programme at the University of Cologne, where he equally taught classes in international environmental law. Additionally, he has taught classes in international environmental law in the Technology and Resources Management master study programme offered at the Institute for Technology and Resources Management in the Tropics and Subtropics of Cologne University of Applied Sciences. John is involved in a number of governance initiatives. Among others, he is a Fellow of the African Good Governance Network (AGGN).
E-Mail: john.takang(at)engov-institute.org
Knowledge Management and Communications Specialist
Christine BUKANIA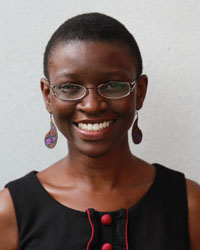 Christine holds a Bachelors degree in Education from Kenyatta University and a Master of Arts degree in German Studies from the University of Nairobi. She has also completed a Master of Arts degree in International Media Studies at the Deutsche Welle Academy in Bonn. She brings almost a decade of experience in the development sector to the organization, having worked in different capacities in international organizations such as the Aga Khan Foundation, the German Development Service [now GIZ], Oxfam GB, and Concern Worldwide. During her previous engagements, she has been involved in activities in the sectors of rural development, peace building, HIV and AIDS, communications and rights based advocacy. Christine is a member of the Association of Media Women in Kenya (AMWIK) and was the founding chairperson of the African Centre for Volunteers. At EGI, Christine will help to strenthen and improve EGI's human and institutional capacity to collect, analyse, package and disseminate information.
E-Mail: christine.bukania(at)engov-institute.org
Community Development Officer (CDO)
Rita Mosume EBUNE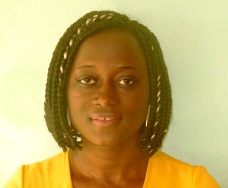 Rita holds a B.Sc. in Environmental Science from the University of Buea and M.Sc. in Environmental Management from the University of Dschang (Cameroon), specializing in natural resource management. She has a passion for working with communities. Prior to joining EGI, she has gathered some field experience from IUCN- Cameroon and the Cameroon Wildlife Conservation Society (CWCS) – Muanko where she served as an intern in community based projects. Rita equally has a training as a Lead Auditor in the FSC Certification training sponsored by Pro-Forest and Rain Forest Alliance. With an ITTO fellowship award in 2014, she received a training on the competing claims on natural resources at the Centre for Development Innovation (CDI) Wageningen University, the Netherlands. With her broad knowledge background and experience in climate change, mangrove conservation and other natural resource issues, Rita is passionate in working with communities on conservation, participatory natural resources management and livelihood enhancing projects.
E-Mail: rita.ebune(at)engov-institute.org
Finance and Administrative Officer
Sylvester Obi TABOT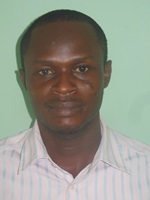 Sylvester obi hold a Bachelors of technology in accounting(B-TECH) from higher institute management studies (HIMS Buea) and the University of Bamenda. He equally  has professional training in computerized accounting systems such as (sage accounting software, QuickBooks, excel etc.). Before joining EGI, Sylvester carried out a research on the effects of risks management on the performances of an organizational goals in small and medium size enterprises in Buea. Sylvester obi is currently the finance and administrative officer of EGI. He is responsible for preparing financial statements, preparing payroll, and budget for the organization.
E-Mail: sylvester.tabot(at)engov-institute.org
Communications and Public Relations Officer (CPRO)
Lisette Flora Badjang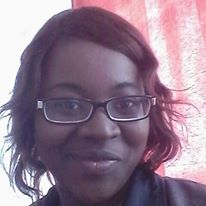 Lisette holds a Bachelor of  Arts in Online Journalism and Public relations from the University of Applied sciences in Germany. She has a passion for working with both offline and online communities, networking and fundraising. Prior to joining EGI, she has gathered some experience in communication for enterprises from the AFC Buea Cameroon where she served as a Communicator and Public relations Agent and also experience in Radio Moderation from CRTV Buea where she served as a moderator. Lisette equally have experiences in event management and social Networking and also in customer adviser for in and out bound services as she was working as a student in Germany for an NGO that promotes Work and Job Opportunities for Blind people. She additionally guarder experiences in Working on social Project in Germany where she was active in counselling  Female Gender Student under the Coordination of the Social help Services of the Technical University in Germany in the town she lived. She has passion in Communicating, advising, changing and innovating. Lisette is a great Idea Provider when it comes to the Conception of Communication and Public Relations Projects,social networking, Fundraising and Public Relations innovations. As the Communications and Public relations Officer, she will assist the EGI in all those work field.
E-Mail: lisette.badjang@engov-institue.org
Finance and administration assistant 
Asongatabong Bibiana Fomenky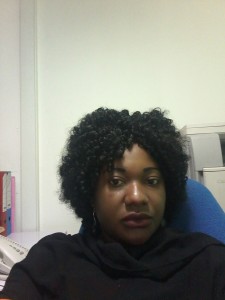 Bibiana studied at the University of Buea where she obtained her BSC. in Educational Psychology. she later moved to IVTC to get professional skills in Account secretaryship, which landed her as an intern at the EGI BUEA for a period of two months in the finance department to be specific. Under the mentor ship of the EGIS Account Officer Mr. Obi Sylvester Tabot, not leaving out the collaborative assistance of the other EGI Staff Officers. With the powerful team of staffs at her disposal, she intends to exploit their professional expertise in accounting transactions and administrative related duties. Whilst Contributing in every way possible to the growth of the organization by being present willing to learn and put in ideas. After her two months INTERNSHIP AT EGI, Bibiana has join EGI Staff as the secretary since 01 of November 2016
Email: bibianafomenky@yahoo.com
VOLUNTEER
Mr. Eric Bomdzele Junior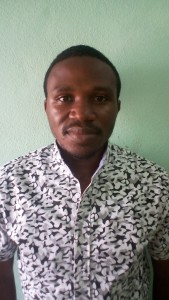 Eric holds a professional B.Sc in Agriculture with specialization in Agricultural Economics and Agribusiness from the University of Buea and a Diploma in Agriculture and Rural Development from the Pan African Institute for Development West Africa (PAID-WA) Buea, South West Region. He is currently a final year student pursuing a professional Masters in Agricultural Economics & Agribusiness in the University of Buea, with great interest in Climate change and agriculture. He started his professional career at Farming and Animal Husbandry Project (FAHP) Cameroon as a volunteer where he gathered hands-on experience in agricultural techniques, teenage mothers, WASH project, forestry & environmental sustainability and community development. He also worked at the Centre for Independent Development Research (CIDR) Buea as a research assistant where he gained research and analytical skills in; Agriculture and rural development, climate variability, Natural resources and Tourism, Health and Gender issues in development, Microeconomics of production, consumption and welfare, Entrepreneurship, enterprise management and Business plan development, and Econometrics, mathematical modeling & forecasting. He is currently happy to join the EGI team as a volunteer in the project department thereby contributing towards achieving the institutional goal while obtaining hands-on experience in diverse areas especially the role of agriculture in forest conservation and wildlife protection so as to ensure sustainability.
E-Mail: eric.bomdzele@engov-institute.org
Advisory Board
Andrew Ako Ako (PhD.)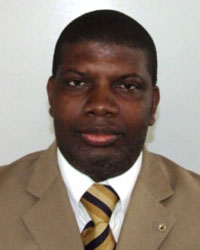 Dr. Ako is a water specialist with over a decade of working experience in water quality research and water supply systems. He has a PhD in Hydrogeochemistry from the Kumamoto University-Japan and an MSc. in Water Management with a specialization in Sanitation and Environment from the University of Dschang-Cameroon. Dr. Ako is presently Research Officer at Cameroon`s Hydrological Research Centre (CRH) in Yaoundé. He has also served as a Senior Researcher at the Yaoundé based Institute for Geological and Mining Research (IRGM). His areas of research include water management and climate change, isotope, hydraulics, groundwater prospection studies and design, water quality, water treatment, urban and rural water supply, water-sanitation and hygiene (WASH). Dr. Ako has also worked as an assistant lecturer at Cameroon`s National Advanced School of Public Works. He has published widely in scientific journals and is a member of several professional associations including the African Groundwater Network (AGW-NET), Rural Water Supply Network (RWSN), International Water Association (IWA), Watershed Task Group (WTG).
 Mr. Peter J. Croll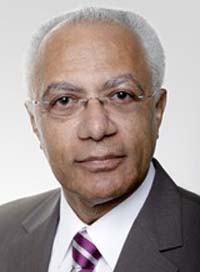 Peter Croll is an in development policy, conflict prevention, crisis management, program and project planning, human resource development, policy advocacy, and as international facilitator. He was Director of the Bonn International Center for Conversion (BICC) from 2001 until 2012. Before joining BICC in 2001, Peter Croll spent many years in leadership positions in the Headquarter and at field offices of the German Technical Cooperation (GTZ) in Africa. From 1997 until 2001, he was GTZ Country Director in Nairobi, Kenya; from 1992 until 1997 he was Country Director of GTZ in Harare, Zimbabwe. Previous assignments include the positions of Head of Department Southern Africa Development Coordinating Conference (SADCC), Senior Advisor to the Development Bank of Zambia in Lusaka, Associate Expert for Industrial Development in the Economic Commission for Latin America (ECLA) in Mexico City, Mexico. He has wide experience in business administration in various private sector companies. Peter Croll graduated in Economics in Giessen, Germany, and studied Applied Linguistics (English and Spanish) at the University Mainz, Germany. He is associate lecturer for conflict resolution at the University of Duisburg-Essen.
Prof. Royal Gardner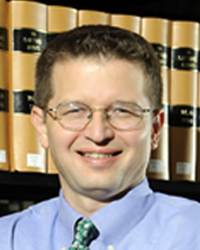 Royal Gardner is the Professor of Law and Director of the Institute for Biodiversity Law and Policy  at Stetson University College of Law. His areas of teaching and research include environmental and international law. He is an executive editor of the Boston College Law Review. He is a vice chair of the American Bar Association's Water Quality and Wetlands Committee and its International Environmental Law Committee. In 1999-2001, Professor Gardner was appointed to the National Research Council's Committee on Mitigating Wetland Losses. He was a member of the United States delegations to the Ramsar Convention Conference of the Parties held in Spain (2002) and Uganda (2005), and served as the North American representative to the Ramsar Scientific and Technical Review Panel (2006-08). He is an invited expert to the Ramsar Scientific and Technical Review Panel for 2009-2012. In 2006, he won the National Wetlands Award for Education and Outreach.
Prof.Dr. Kirk Junker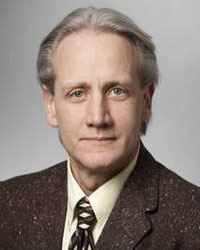 Professor Junker is an International Environmental Law expert and is the chair of the department of US American law at the University of Cologne's faculty of law.His fields of research are American Law, International Law, International Environmental Law, Law of the European Union, Law and Science, Law and Rhetoric. He is licensed to practice law in Pennsylvania and before the federal courts of the United States of America.Professor Junker was a member of the Faculty of Natural Sciences of the Open University in the United Kingdom. He has worked as a full-time faculty member at Queen's University of Belfast in Northern Ireland and Dublin City University in Ireland and the Duquesne University in Pittsburgh USA. Prof. Junker is currently the Director of the International Master of Environmental Sciences (IMES) Study Course at the University of Cologne.
Hillary Agaba (PhD.)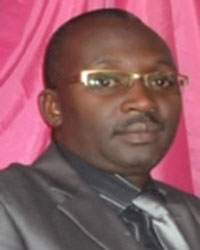 Dr. Agaba is an Agroforestry Scientist with over 11 years of working experience in Agroforestry research for development. He holds a PhD in Ecosystem Health and Production from Makerere University, Uganda. He has been working at the National Forestry Resources Research Institute of Uganda (NAFORRI) since 2006, where he has held several leadership positions. Since 2011, Dr. Agaba is the Program Leader for Agroforestry at NAFORRI. Prior to this he worked as Agroforestry Research and Dissemination Officer in several projects across Uganda funded by multilateral donors such as the EU and USAID. Moreover, he has worked as a consultant for several Agencies including the World Agroforestry Centre (ICRAF). He has trained intensely in eco-physiology at Goettingen University in Germany.  His recent research interest has been exploring the use of hydrogels to plant trees in degraded dryland ecosystems.Dr. Agaba equally has several scientific publications to his credit.
Resident scholars, interns and trainees, volunteers