Children are constantly engaging with the environment and realizing the daily challenges of living a sustainable life, and they are ready and willing to talk about it, if someone only pays attention. Since the beginning of the year, EGI has been providing a platform for them to air their views and share their lessons with each other and the world.
World Wetlands Day 2014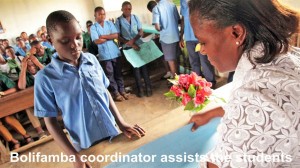 On February 5th, EGI commemorated World Wetlands Day with students of Government High School (GHS) Bolifamba, who played host to Baptist High School and Summerset Bilingual College. The day marks the date of the adoption of the convention on Wetlands on 2 February 1971, in the main city of Iranian on the shores of the Caspian Sea. Each year since 1997, the Ramsar Secretariat has provided materials so that government agencies, non-governmental organizations, conversations, and groups of citizens can help raise public awareness about the importance and values of wetlands.
This year's theme "Wetlands and Agriculture: Partners for Growth." Using a poster from the Ramsar Convention website, students from Baptist High School acted a sketch that depicted the conflicts around use of wetlands, and the effects of wetlands exploitation on human beings and animals.
Following this depiction, students were keen to discuss how useful wetlands are in Cameroon. Among them was Tiku Racheal from BHS Buea who boldly stated, "Agriculture produces raw materials like cocoa, coffee, banana with the help of wetlands for our industries and even for exports. This thus increases the country's revenue."
World Water Day 2014 essay and Poster Competition
In commemoration of World Water Day, which is on 22 March of every year, EGI launched a poster and essay competition. 11 schools from Buea municipality participated.  For the poster competition, there were three subthemes: different uses of water and its importance in our daily lives, consequences of the consumption of polluted water on health, and when and how to wash hands.  The essay competition was titled "Water and energy are interdependent."
Once again, students proved that they understood what the theme was about and expressed their own opinion (Read the winning essays here). An interesting angle to the debate was offered by Tiafack Tongka of GHS Great Soppo, who explained the cultural significance of water and energy. "Water and energy have aided in determining the cultural location of many ethnic groups in Cameroon. A good example is the movement of people from the Chad plain downwards due to the constant flooding of Lake Chad."
If looked at critically, the themes of the Worlds Wetlands Day and World's Water Day are all talking about interdependence: how wetlands and agriculture are interdependent on each other and how water and energy are interdependent.
This is just to prove that wetlands, agriculture, water, energy are very important components that make up our environment and thus should be managed carefully.  As a means to motivate the students who have taken their time to write these essays, EGI awarded prizes to the best three students and to the schools they represent.